Getting Back to Work in the Post-COVID-19 World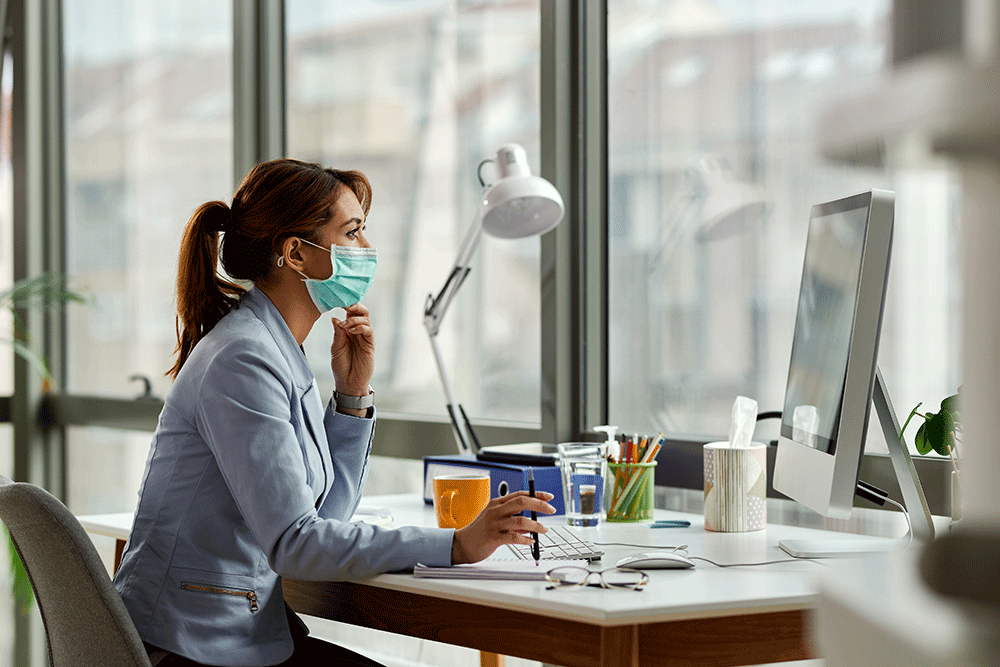 There are some encouraging signs that the peak of the current wave of COVID-19 has passed, restrictions are easing off and the economy is starting to reopen. While this is good news, it doesn't mean that we are out of the woods yet. How organizations get back to business and the precautions they take could make all the difference of how successful the next phase will be.
Resuming operations following the pandemic may seem like a daunting task but a step by step approach can make the job more manageable. The safety of all workers must be the primary focus of any business when attempting to reopen or increase operations and implementing COVID-19 protocols that conform with government and health care regulations is a key component. The following outlines 5 tips to consider when reopening or ramping up your business:
1. Keep employees safe:
We all know the drill by now:
2. Encourage employee compliance with COVID-19 protocols:
Beyond the drill, the COVID workplace modifications we need to take are even more important as the economy starts opening up and we try to avoid any setbacks. Employee compliance is essential and can be made easier by:
Establishing a Health Screening protocol for anyone entering the workplace
Providing a good supply of appropriate PPE based on your operations
Providing hand washing/hand sanitizing stations
Redesigning workstations and work spaces to conform to physical distancing recommendations
Staggering work hours, breaks, lunches or even the days employees come into the office
Continuing to let employees work from home
Conducting virtual meetings even at the workplace
Encouraging employees to stay home if they are not feeling well
3. Implement COVID-19 workplace modifications:
Explore operational alterations that may provide further protection such as:
Ventilation system installations, inspections, cleaning and sanitizing
Plexiglass barriers
Redesigning and distancing workstations to conform to physical distancing guidelines
Drive through or curbside pickup
Daily cleaning and sanitization of personal workstations or areas
Establish cleaning and sanitization schedules for common surfaces like door knobs, light switches, telephones, railings, kettles, coffee makers and water coolers, etc.
4. Review and revise safety policies and procedures:
The way you operate will likely have changed which means that safety guidelines and protocols will also need to change. The alterations to work stations, work schedules and work habits due to COVID-19 will require modifications or revisions to established health & safety protocols.
Now is the time to take a close look at the workplace safety of your organization. Prior to reopening your business or bringing more employees back to work it is necessary to identify the changes due to new COVID guidelines and incorporate them into your Health & Safety Management Plan.
5. Communicate new safety measures to all employees:
Returning to work after being off because of the pandemic is the same as employee absences due to extended vacations or leaves; there is an increased risk of accident or injury because they have been away from their work routine and because the way they do their job may have changed in the interim.
Taking the time to review the new safety policies and procedures with employees as they return to work will help prevent work-related accidents and injuries. A fresh reminder of the inherent risks and hazards of their position, as well as an open discussion about how COVID-19 has impacted the way they work can be an invaluable step toward injury reduction as the economy starts to recover.
The impact of this coronavirus is far from over but spending the time now to slowly, cautiously and properly get back to some sense of normalcy may be the next most valuable step we can take.
Be safe, stay healthy, stop the spread and continue to hammer the curve.
For more information about the relaunching of the economy in your area, you can check the following:
As always, we are available to answer your questions or address your concerns to the best of our ability. If you are looking for additional assistance about safely reopening your organization, you can contact us directly, during business hours, through our chat feature or by phone at 1-844-377-9545, you can reach us by email at [email protected], [email protected], and you can always connect with us on Facebook, Twitter, or LinkedIn.