Categories
Archives
Subscribe
How to Protect Yourself from Extreme Weather on the Job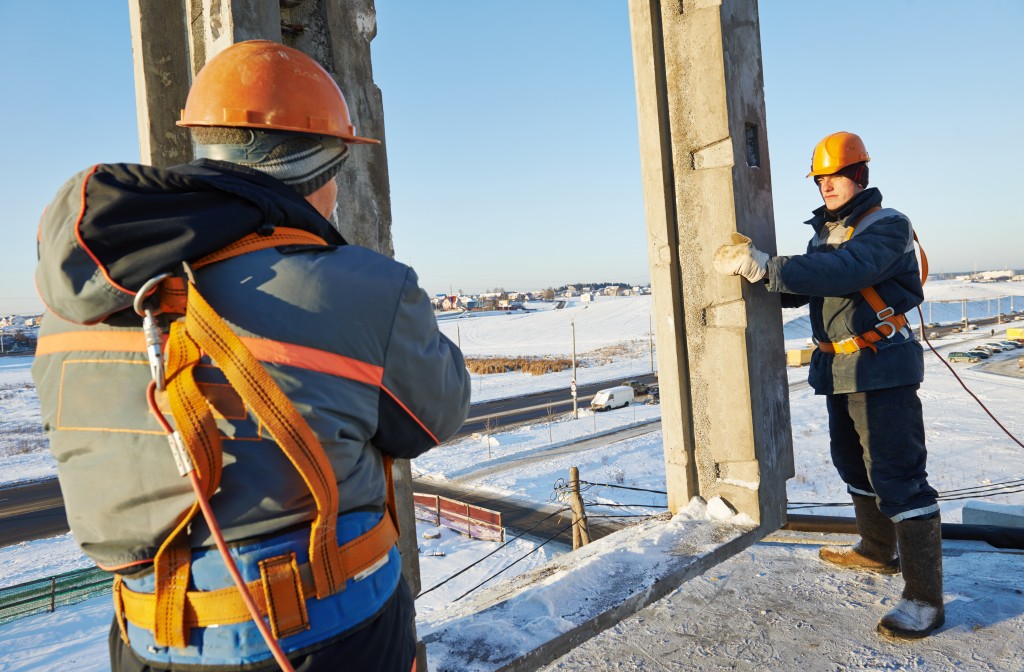 It's January and although the days may be getting longer, many of the brutally cold days of winter lie ahead. It is not just the plummeting temperatures that affect workers but wind and moisture can be contributing factors to the challenges faced when working in cold environments. It's important to know how to protect yourself from extreme weather on the job.
Wind Chill
At any temperature, wind will make you feel colder. We refer to this effect as 'wind chill' which simply means refers to what the air 'feels like' as opposed to what the actual temperature is. The wind chill or 'feel like' temperature can be used as a guideline for appropriate dress for going outside and how long to stay exposed.
Humidity
Moisture or humidity also plays a role even though Alberta dry or arid climate. Water conducts heat away from the body 25 times faster than dry air, so getting wet from precipitation or perspiration can escalate the effect of the air temperature while working.
Counterbalance
There are 4 main ways to counterbalance the effects of working in cold environments:
Proper Insulation – ensure you have the appropriate personal protective equipment to suit the temperature, weather conditions, job duties and job duration for the day. This will help regulate the amount of heat and sweat generated which can cause the clothing next to the body to get wet. When the layer next to the body gets wet, the insulation value of the clothing will dramatically decrease. The following are a few tips on proper winter working attire:
clothing should be worn in layers rather a single thick garment
the inner layer should provide insulation and 'wick' moisture away from the skin
the additional layers also provide insulation and should be easy to open or remove
the outer layer should be waterproof and easily removable
a wool hat or wool liner under hard hats should be worn to prevent heat loss
gloves and mittens with wool liners are also a good idea
wear felt-lined rubber bottom boots, leather topped boots with removable liners
socks should not 'squeeze' the feet inside the boot and you should be able to comfortably be able to wiggle your toes
have extra dry clothing (socks, mitts, hats, shirts) should be available
keeping disposable or reusable hot packs for hands and feet handy can be invaluable
Physical Activity – the amount of physical activity involved in outdoor work has a direct impact on how to prepare for working in extreme cold. The more physically active you are the more heat your body will produce, the less active the less heat. If your job requires you to be outside, then you may have to adjust your thermal layers in direct response to the amount of activity involved. If your job does not require a lot of movement, you may need to increase your layers of insulation, conversely if your job requires a lot of activity you may have to reduce your layers. The colder the temperature and higher the wind, the more energy it will take to keep your body warm. Ideally, you want to balance the amount of heat your body produces with the amount of energy needed to be comfortable working. Assessing your work day, everyday, will help make sure that you are not underdressed or overdressed for the weather conditions and work demands.
Controlled Exposure – although there are no maximum exposure limits for working in extreme cold in Canada, common sense dictates that there should be a recovery or warm-up period for anyone working for extended periods in extreme cold weather. The Saskatchewan Department of Labour developed a 'work/warm-up schedule' for limits on exposure thresholds for four hour shifts. The following table provides a guideline for maximum work periods and number of warm-up breaks based on air temperature and wind speeds.
Education – the best way to prevent extreme cold weather injuries is to ensure all employees, including supervisors and management are informed of safety practices when working in cold environments, including but not limited to:
symptoms of adverse effects of cold exposure
appropriate clothing, footwear, and personal protective equipment
physical fitness requirements for working in cold
emergency procedures for treating cold injuries
the importance of the buddy system while working in the cold
enforcing warm-up periods
limiting exposure to cold based on temperature and wind chill
As long as you are aware of and adhere to appropriate dress codes and safe work habits, it is possible to remain healthy and productive regardless of how cold your work environment may get.
More information on working in cold environments can be found on the Canadian Centre of Occupational Health and Safety here or you can connect with us on our Facebook page, through our Twitter account, on our LinkedIn profile and you can always email us at [email protected] or at [email protected] or contact us directly during business hours by using our chat feature or calling 1-844-377-9545.